AgroSilício Soil Conditioner
AgroSilício is a Soil Conditioner in the form of Calcium and Magnesium Silicate.
FOR EVERY 50 KG APPLIED

, 25 KG OF CO2 EMISSIONS ARE AVOIDED

*
*In comparison to agricultural limestone. 2021 values verified by Bureau Veritas.
Technical specifications:
Particle Size Distribution:
Particles passing through the 2.00mm sieve (ABNT Nº10): 100%
Particles passing through the 0.84mm sieve (ABNT Nº20): 80%
Particles passing through the 0.30mm sieve (ABNT Nº50): 60%
Shelf Life:
2 years after the date of manufacture.
Raw Material:
Steelmaking aggregate steel slag.
Chemical composition
Guarantees
CaO
36%
MgO
9%
Sum of Oxides
45%
PN
85%
PRNT
64,6%
Product registered with the Ministry of Agriculture, Livestock and Supply (MAPA) under No. MG 002285-3.000001.
Recommended use and storage:
Application method: via soil;
For exclusive use as a soil conditioner;
Dosage and application method as per the guidance of a qualified professional;
Store in a covered, ventilated and dry place, in stacks up to 20 bags high;
Do not leave the product exposed to the weather or inside application equipment;
Use on dry and clean equipment;
Hygroscopic product.
Our commitment to sustainability is at the heart of our business. We are committed to providing agricultural solutions that not only boost productivity, but also protect our planet. If you want to know more about how AgroSilício can revolutionize your agriculture, reduce your carbon footprint and promote more responsible agricultural practices, we are here to help.
Please don't hesitate to contact us for additional information, answer questions, or discuss how we can collaborate toward a more sustainable agricultural future. Your message is important to us, and we look forward to hearing your ideas and needs.
Together, we can make a difference, strengthening agriculture and taking care of our precious environment. Use the form below or the contact details to the right to connect with us. Thank you for joining us on this sustainable journey!
GET TO KNOW
THE LINE OF SUSTAINABLE AGROSILÍCIO FERTILIZERS AND SOIL CONDITIONERS
Plus Simple Mineral Fertilizer containing the micronutrient Silicon and the macronutrients Calcium and Magnesium.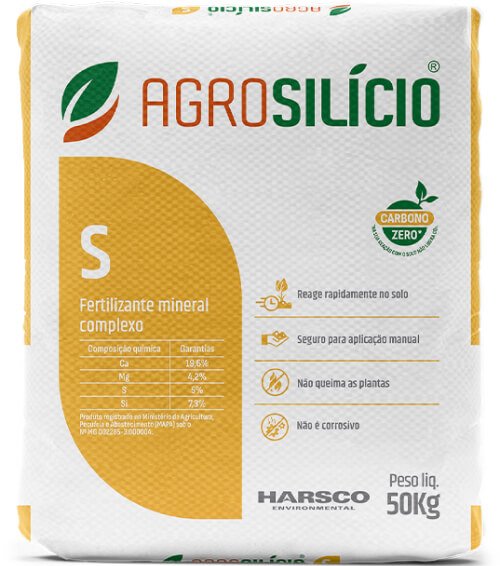 Multinutrient Fertilizer containing Calcium, Magnesium, Silicon, and Sulfur in the same particle.
Multinutrient Fertilizer containing Calcium, Magnesium, Silicon, and Sulfur in the same particle.